Providing Nourishment to the Malnourished Children in Joida Taluka, Uttara Kannada (UK) district, Karnataka
December 29, 2021
By Manjunath K. Shresthi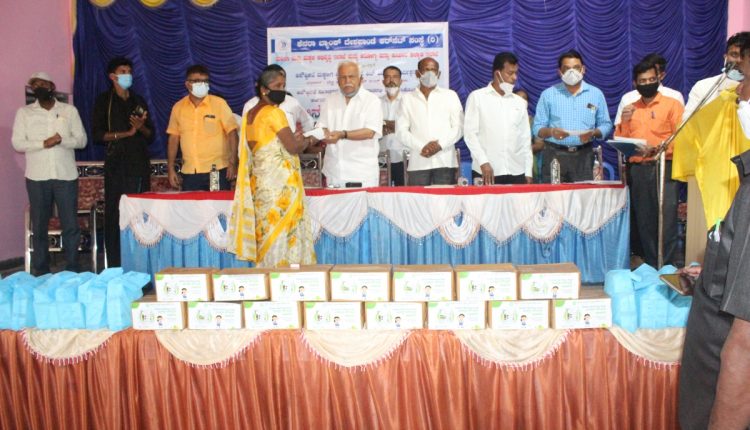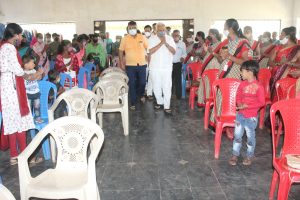 A program was held on December 27 in Joida organised by Canara Bank Deshpande RSETI along with the Department of Women & Child Development and the Department of Health and Family Welfare at Kunabi Samaj Bhavan. The program was inaugurated by Haliyal-Joida MLA Mr. R.V. Deshpande. The program began with the introduction of the guests on stage and a devotional song invoking Goddess Sharada Mathe (Mother) by a group of small boys and girls, which was the highlight of the function. Mrs. Sharada Marathe, Child Development Officer, Joida spoke about the problems faced and how they have been successful in addressing the serious health issue of malnutrition.
Mrs. Marathe, elaborated further about the high numbers of anganwadi kendras constructed in Joida taluka and how RSETI has been helping by providing the required materials like cupboards, toys and biscuits for the anganwadi kendras and the children there. The VRDMT Founder's Day, is held on July 1st and to commemorate the same, a series of programs held from July 1st to January 31st, 2022. As a Trust RSETI intervened and monitored the kit distribution programs by regularly conducting health check up camps. The health camps are conducted by Women and Child development; Health and Family welfare and RBSK team of Doctors. Certificates of appreciation were given to the anganwadi and ASHA workers.
The weight of babies does not increase and they face lots of health problems so from July 01, 2021 a Poshan Abhiyan was conducted; MAM kids health has improved up to 40% and reduced other problems faced by children and 623 kits given to severely malnourished (SAM) children. During Covid, kits were distributed which helped in building immunity among people. Millets kits given by West Coast Pvt. Ltd. (WCPM) consisting of multi- grain atta and Mr. Rajesh Tiwari PRO, gave away certificates to Anganwadi workers .
The Haliyal-Joida Congress MLA, Mr. R.V. Deshpande spoke about having a tie-up with other organisations. He also greeted the anganwadi workers; the ZP and the concerned officers of various health departments like the doctors without whose help such figures and results cannot be achieved. The millets kits were given by WCPM, Dandeli under the now mandatory CSR initiative.
Cheques of Rs. One lakh each were distributed by the MLA to the next of the Corona deceased survivors. The senior politician cautioned the general public that "Covid pandemic has not gone away yet and they should continue to take precautions like wearing masks, maintain social distance and other health measures to stay safe. Kids have been orphaned during the Covid pandemic and he also emphasised that at least a compensation of five lakh rupees should be given".
He emphasized "that small children are the future of the country and they have to grow up healthy and told mothers that health is wealth and the people and the country can grow only if the children are healthy and receive the right kind of nutrition. He also said that children must receive the right kind of education to grow up as better citizens. Every household has two or three children and the mother has to distribute the food kit evenly in the house. But the kit should be given only to the kid who has received it".
Distribution of Nutrition Booster Kits among Children
The nutrition booster kits included calcium-vitamin D3 (200 ml), multivitamin syrup (200 ml), protein powder (200GX 2 Tins), paracetamol suspension (250 mg) and chayawanprash (500 gms) respectively.
Additional support for Joida taluka by West Coast Paper Mills (WCPM), Dandeli
Millets are highly nutritious, non-glutinous and non-acid forming foods and hence they are easy to digest. They are also considered to be the least allergenic and most digestible of the grains available. Being high on insoluble fibre, millets release small quantities of glucose over a long period of time. Millets are considered a wonder food for kids as the delicious grains play a vital role in child's accelerated growth and development.
West Coast Paper Mill Ltd. (WCPM) has supported 600 numbers of millets package to SAM and MAM children of Joida taluk. The millet pack contains the following items Bisibele bath mix; Health mix and Khichadi of 400 gms each and Kheer mix of 200 gms respectively.
The Block Congress President, Mr. Sadanand Dabagar spoke on the help received from Deshpande RSETI Foundation in all spheres. Also present were Mr. Ramesh Naik, former Gram Panchayat (GP) Member, Joida; Mrs. Sushma Malimath, Agriculture department, Joida; Mr. Sanjay Kamble, Tahshildar, Joida; Mr. Sanjay Hanabar, RamNagar; Mr Arun Kamrekar, President, Gram Panchayat (GP) Member, Joida; social workers Mr. Vinay Desai and Mr. Devidas Desai. The vote of thanks was given by Mrs. Kalpana Karvekar,Joida and Mr. Ashok Suryavanshi CBDRSETI, from Joida.