Union MoS Railways Suresh Angadi Lists Out 'BJP's-2' Achievements at Circuit House, Belagavi.
June 01, 2020
By The Flag Post Staff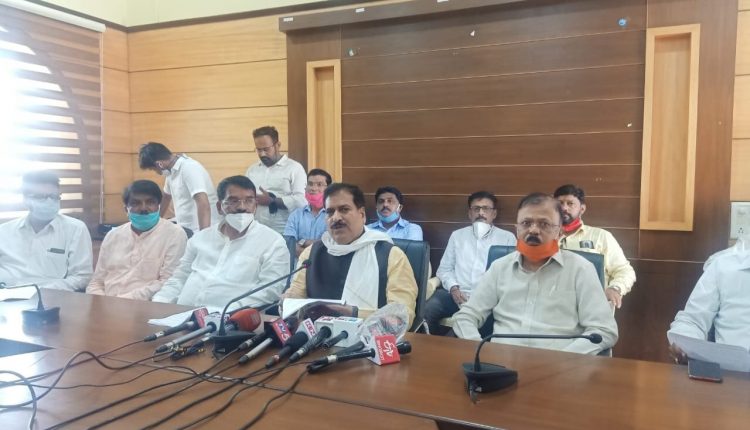 Union MoS Railways, Suresh Angadi, today held a press conference at Circuit House, Belagavi and spoke at length about the policies of the Union government's track record in office under Prime Minister Narendra Modi' (also known as Modi-2). It was on May 30, 2019, that the four-time Lok Sabha, Member of Parliament, Belagavi, took oath as a Minister on the courtyard of the Rashtrapati Bhawan, New Delhi, and has now completed one year as MoS Railways.
Suresh Angadi spoke about the achievements of the Modi-2 government and the fabulous job being done by the Prime Minister; and is being praised across the globe for his leadership and his handling of the dreaded pandemic which has thrown life out of gear since the lockdown. The Minister highlighted the list of policies and programs started during Modi-1, which were nearing completion in his second stint.
The Union Minister also touched upon the good work being done by the Chief Minister of Karnataka and also praised the police department and the SP Belagavi, and his team for maintaining a strict vigil at Kognolli check post during the entire phase of the lockdown and continuing the same even now.
Unlock 1 has started and new guidelines were being issued by the Union government. Angadi also added that, "one should take the Covid-19 crisis as an opportunity and make appropriate life style changes post the pandemic and the public should learn to live with it, and maintain proper health and hygiene at all times. People abroad are also suffering badly and want to return home at the earliest and are happy to be alive there, and believe that India is a safer and better country to live".
MoS Railways mentioned about the different policies and programs being carried out by the government like the PM Kisan Yojana and benefitting more than 9.67 crore farmers; ensuring monthly pension to farmers, labourers and shopkeepers and special funds for completing housing projects for the middle class and that trains also have begun operations across the country. He also addressed the issue of banks not cooperating with the customers and said that he would look into the same when such cases would come to his notice.
The Union Minister was greeted and wished on his birthday today. Also present were the party karyakartas, Belagavi (N) MLA Anil Benake, office bearers Rajendra Harkuni, Shashikant Patil, senior advocate Maruti B. Zirli and the program was compered by advocate Basavaraj Rotti.