Dr.Lokapal's Cold Pressed Edible Oils: A Combination of Health and Taste
August 03, 2020
By The Flag Post Staff.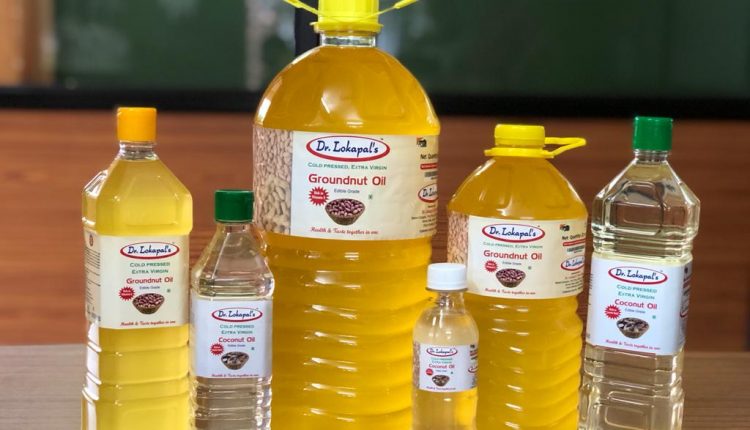 The products and the food we consume form an important part of our daily lives. But have we ever paused for a minute to even think about how they are manufactured? They enter our households through aggressive marketing; brand promotion; from the shelves of local kirana and the more fancy department stores and finally reach our stomachs. The bigger the company the more advertising budgets at its disposal. But one should not turn a blind eye and neglect brands that are not marketed. One should buy and consume them, for they are full of health benefits.
Refined Oil: started a negative campaign and informed the general public that if one consumed   groundnut and coconut oils, it causes an increase in cholesterol. The refined oil goes through a long process of degumming and uses hexane which is a carcinogenic chemical. The oils are later cleaned in soapy water (using the bleaching method); caustic soda is also used for waxing which gives the oil a shiny effect. Deodorisation takes out the bad smell, and essences put in the oil makes it aromatic for selling the final product. Refined oil is produced at 500-560 degree Celsius. In double refined oil there is total loss of nutrition as the oil goes through 14 different chemical processes. When oil is produced beyond 50 degrees it loses its nutrition.
Benefits of Cold Pressed Edible Oils: The cold pressed oil, are made through the traditional process and are full of nutrition and maintains its viscosity. High viscosity helps in lesser consumption as compared to the oil extracted by heat extraction method. They retain the healthy antioxidants that are usually destroyed in the heat extraction method. They have anti-bacterial and anti inflammatory properties
Groundnut oil is full of Vitamin E (13mg/100gm) and rich in antioxidants; it also has Omega 3 & 6; and free from trans fat and rich in mono unsaturated fatty acids (MUFA) and Poly Unsaturated fatty acids (PUFA). As per the opinion of experts it has strong properties of antioxidants and has other health benefits. Cold pressed coconut and groundnut oils have the highest smoking point and thereby making it one of the best cooking oils.
In refined oil there is no nutrition as the oil becomes thinner and cold pressed oil cannot be compared with refined oil as it retains all the nutrition. To extract one litre of groundnut oil 2.5 kgs of groundnuts are used, provided the moisture is less than 8%. Oils extracted through the cold pressed method easily dissolve in the body and has 0% trans fats.
About the Manufacturer: Sanjay L. Gowder, completed his B'Com graduation in 1987 and did his   article ship for three years with a reputed Chartered Accountant in Goa. He's been a sub stock broker for the last 25 years since 1995 and is a native of Ankola in Uttar Kannada district, Karnataka. He entered the cooking oil business in March 2020, a few days before the lockdown came into place. Sesame oil, Groundnut oil, coconut oil, safflower oil are the other oils which are also manufactured but he mainly focuses on groundnut and coconut oil extraction. Coconut oil is used extensively in coastal Karnataka.
Why Dr. Lokapal's Cold Pressed Extra Virgin Edible Oil must be consumed?
The high quality non GMO seed/copra are cleaned and dried in sunlight to remove the extra moisture.
The seeds/ copra are slowly crushed in the wooden ghani with a pestle and mortar made of waagai wood which has medicinal properties. And no chemicals are used during the extraction of oil which makes it pure and natural.
The extracted oil is then allowed to settle in food grade (304 steel) containers and gets filtered naturally through the process of sedimentation. All the norms are followed and complete hygiene is maintained right from extraction till packaging.
As the temperature of the oil seldom exceeds 45-50 degrees C, during extraction, the original flavours and viscosity are retained.
The coconut oil produced by Dr. Lokapals' is rich in lauric acid (49.94%). According to health experts, lauric acid increases the immunity of the human body when digested. It also forms a substance called Monolaurin which kills harmful pathogens such as bacteria, viruses and fungi.  
The cold pressed oils are free from any artificial flavours, colours and preservatives. The oils are tested and certified by NABL accredited laboratories as required by FSSAI norms.
Coconut Oil available in:    1 litre, 200ml and 500ml.
Groundnut oil available in: 5 litres, 2 litres and 1 litre.
*Disclaimer: This article speaks about the different processes involved in the manufacture of various edible oils and their chemical properties. It does not promote or endorse any of the brands and the reader should check the facts and figures before making his/her decision.