Halebidu and Belur: An Opera in Stone!
Rajashree Baheti
The state of Karnataka has a great history to offer, and it has in its store a treasure trove of architectural wonders.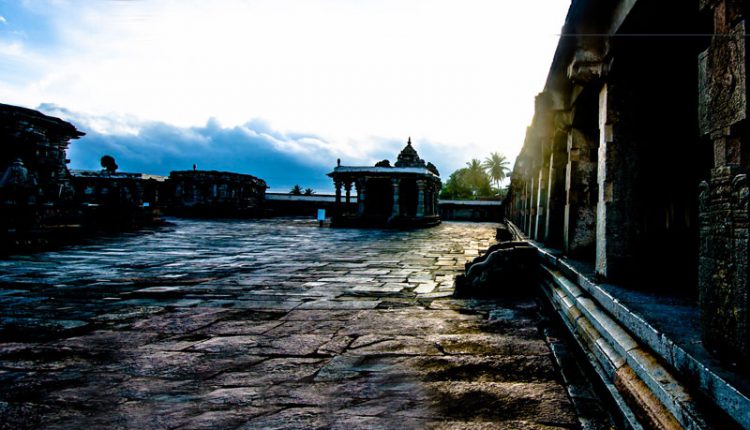 The state of Karnataka has a great history to offer, and it has in its store a treasure trove of architectural wonders. No journey is complete to Karnataka, if one does not visit the famed temples of Belur and Halebidu. One is transported back in time on visiting these places either for spiritual salvation of the body, mind and soul; and also marvel at the  rich architectural splendor that have a tale to tell for the future generations. Blessed am I, "that I have been born in this land, and I had the luck to love her", are immortal words that come to the mind on seeing the exuberance of fine art in soapstone.
The narrow road from Hassan to Halebidu, winding between pristine tracts of nature and wilderness takes one to a higher degree of bliss that one can never experience in the daily routine in metro cities.. The desolate roads and verdant surrounding inviting the visitor with picture perfect settings where the eye and camera zoom in and livestock straying on and of the fields is a one memorable trip worth a visit!
Finally, some hustling of people indicated that we had reached Halebidu( holy abode)
As we entered, we saw the stone temple with guides eager to share the beautiful history of the 12th century capital and the temple which has two shiva lingas. One dedicated to the king and the other to queen overlooking a beautiful water body hence Dwarasamudram.
It was attacked in 14th century by Malik Kafur and it remains incomplete and plundered, but still standing strong on its stone platform.
The guide retold all the mythological tales as a mother would narrate to her attentive children. The great Prahlad, the arrogance of Ravana, the might of Lord Shiva and Bheem.
The beauty of the couple Vishnu and Laxmi and various other stories carved out of soapstone and etched for eternity. The sheer excellence and intricate stone work left behind as the legacy of the patrons who encouraged such pieces of art; and the master craftsman and masons who chiseled and worked on the soapstone leave the tourist in awe of the ever welcoming smile of the figurines. To sum it up all the temples are an opera in stone.
Halebidu was inspired by the Belur star shaped temple, and so we drove to Belur. Belur is a fully functional temple of lord Chennakeshava, adorned with beautiful jewels. It has two other temples of Goddess Sridevi and Bhoodevi.
The rain made the evening cool and in no time the setting sun peeped through the clouds and lit the evening and turned the stone floor into smooth blue and copper color.
Sheer craftsmanship for centuries created these monuments and we thought the latest technology was the only thing that can enthrall us!!