Avadhootha Vinay Guruji meets Union Minister Sadananda Gowda in New Delhi
December 23, 2020
By Anireeth CR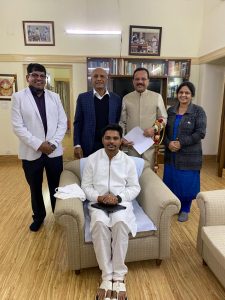 New Delhi: Avadhootha Sri Vinay Guruji met the Union Minister of Chemicals and Fertilizers, Mr. D. V. Sadananda Gowda  at his residence in New Delhi.
The meeting  on the occasion of National Farmers' Day, was held to discuss various issues related to farming and adoption of an organic lifestyle.  Guruji exchanged a letter with the Minister which included suggestions of how farming could be improved in the country.
Vinay Guruji spoke about the increased amount of chemicals and pesticides in crops. He pointed out about the harmful effects of these chemicals and posing health risks and giving rise to many diseases among humans and also other life forms. Research has found consistent evidence of serious health risks such as cancer, nervous system diseases and reproductive problems in people exposed to pesticides.
Guruji  also discussed about the importance of cow and the respect a cow rightly deserves in our country. He spoke highly about the by-products' of the cow and its uses that enables one to adopt a Satvik way of living. He stressed on how cow dung can be used for conducting the Vedic 'Agnihotra Homa' –  yagya of casting of ghee into the sacred fire as per strict rites. This homa helps in cleansing and purification of the air and cutting down pollution and diseases.
Another aspect that Guruji discussed was the need to adopt to an organic way of living. Going organic helps to improve the environment and provide ones family with mental and physical benefits, including a decreased chance of accelerated disease. Those involved in the organic movement seek to live a cleaner, healthier individual existence and in a more earth-friendly way altogether.
Vinay Guruji had earlier discussed these points with Prime Minister Narendra Modi. He requested the Union Minister to consider the same and help the country in implementing them soon and also remind PM Modi to help in developing a healthy and wise nation.