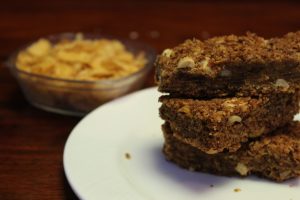 Always thought of eating those gulab jamuns or jalebis stacked in a tray in the sweet shop but couldn't? You were terrified it would make your weighing machine needle swing further right and your personal physician would yell at you. But now here is sweet without sugar. Sounds fun? It is.
We Indians love sweets and they love us back, often in the wrong body parts. And there is something called sugar, the spoiler.
Sugar is sweet to taste but everything about it is bitter –full of harmful chemicals that can play havoc with your health from your tooth to your eyes to your heart. Each organ of your body dreads sugar. But worry not. Here is something which should cheer you up. Have sweets made of natural sugars like maple syrup, jaggery, dates, palms, and what-have-you!
Ved Pohoja, a famous name in Delhi and a creative maverick, is launching along with two associates an innovative concept for the city's foodies — sweets from home and across the globe, but without using sugar. The name of his experience store sums it up: Anything But Sugar.
After the consumption of sinful sweets started impacting his health, Mr Pohoja with friends KB Sharma and Pramod Singla hit upon an idea: Have sweets made of anything but sugar, the guilt-free way! Today, he and two business partners are offering Delhiites the delicious outcome of their painstaking efforts and long research in the form of an experience store, named Anything But Sugar.  
True to its nomenclature, Home for Food Tradition (HFT), the company launching the Anything But Sugar brand of natural sweeteners, would showcase in its Defence Colony store items promoting healthier alternatives to sugar. HFT has been into food and catering for around seven years with ventures like 3 Mile Bakery, Breads & Spreads, Grub Manager, Laddoo Singh, etc.
The single biggest achievement of Anything But Sugar is that, at a time when we all are resigned to the sugar-or-nothing theory, this entity is on a mission of offering many substitutes to the chemically treated sweetener (read sugar) and make them accessible to the average household. 
Anything But Sugar is all about Natural Sugars
There are several substitutes to sugar that Anything But Sugar has rediscovered. Interestingly, they were always there in front of us. How else could our forefathers prepare their sweet dishes and beverages before the white sugar was introduced to us by the British?
We have come a long way since sugar came to be part of our daily diet. Over the years, it has not only dissolved into our cuppa but also our psyche. So much so that we stopped thinking about anything except sugar as a sweetener. 
What is intriguing is that after so much research into the adverse impact of sugar on human health, no serious effort has been made to find a lasting solution to sugar. Now the time has come to say goodbye to sugar with healthier bites at the experience store. 
Anything But Sugar has done elaborate research on natural sweeteners before coming up with practical and tasty alternatives to sugar. 
What's more, the store experimented with the formulae in preparing many a sweet dish. The outcome can be seen in the form of 60-odd products that would soon light up the displays.
 Anything But Sugar (ABS) to wage a war on sugar. May the natural sugar win! 
The launch of Anything But Sugar has escalated and renewed the war on sugar. The experience store aims to create awareness about the ill effects of sugar and the wisdom in adopting alternatives. Anything But Sugar is as much a campaign as it is a business.
For the wary, sugar interferes with the functioning of the body's immune function. Research has shown that that excessive use of sugar suppresses immune response to disease. It also accelerates the aging process in the human body. Tooth decay and gum disease are the other adverse impacts of sugar. It can affect cognitive ability in children and result in behavioural changes in them.
Ved Pahoja's Mission: Eat sweets the Indian way
The first sugar factory was started by the British in 1860 in Bihar. But we Indians have been eating jalebis, gujhiyas and ladoos for ages.
How did ancient India make its sweets? With jaggery of course, which is one of the many options to go to. Jaggery is healthy, full of minerals minus all the ill effects of whiter sugar.
With back-to-basics as its motto, the company wants to reach out (for now) to Delhiites with a message through its products based on natural produce. Besides natural sugar, the store uses pure ghee in all preparations. All the product range contains ingredients derived from natural sources.
Anything But Sugar -Live long, live Guilt free – 
Though ABS is a business venture, there is a consensus among the three associates that the cause is more important than the business. And they will adhere to it and not compromise on the quality. The plan is to open 4-5 retail outlets in the city before expanding out.
Anything But Sugar is offering something rich in taste and low on health risks which s/he might not have tried. The slogan – Have sweets, yet remain guilt-free. This comes only with the knowledge that they have not consumed anything harmful. Against this backdrop, Anything But Sugar comes as a pleasant surprise for some and a welcome relief to many!