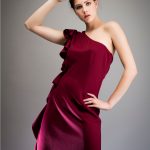 Valentines Day is all about expressing love. To celebrate the season of love, Samshék has come up with their new range of Valentine's collection. If you are looking to impress your partner or still searching for a perfect gift for her, Samshék is the best and one stop store. Surprise your date with a perfect outfit making your moment more special.
Being red, the colour of the season, plays a vital in creating a mood or ambiance we want to, so keeping in mind the same, Samshék has introduced vibrant shades of deep reds, wine red, cherry reds and whites comprising of shirts, off- shoulder dresses, side cut ruffle dresses and short dresses to choose from and lends a opulent look making them a must have for any wardrobe.The collection celebrates love and commemorates the day by making dressing up a pleasure. It looks elegant and versatile which is perfect for your special date.
 Making your V – Day even more special, Samshék is providing free customisations to all their customers on their premium Valentines collection. What are you waiting for, grab this deal right now!
About Samshék
 Samshék – India's first tech fashion brand that specializes in affordable luxury clothing for women. A fashion-forward tech brand that combines digital experience with inspirational fashion to empower women to feel confident in their own skin. Their mantra is to offer fashion and quality combined with innovation and sustainability. The brand also offers customized clothing best suited to one's body shape and personal style. On the technology front- they have introduced one of the first 3D body scanner technology in India for taking personalized measurements.  Samshék , believes that every body shape should be celebrated in its own unique sense, which is why they introduced the concept of digital customization which lets you virtually change the sleeves, neckline, dress length of the garment. On the sustainability front, they work on a zero-waste production model and keep digital inventory to minimize their industrial textile consumption.  Samshék provides 48 hours of delivery from the store and 5 days delivery online.    
Price – Rs. 2500/- onwards
Availability – https://in.samshek.com/