Dandeli Samagra Abhivruddhi Horata Samiti Sitting in Protest to save River Kali
Feb 12, 2021
By Manjunath K. Shresthi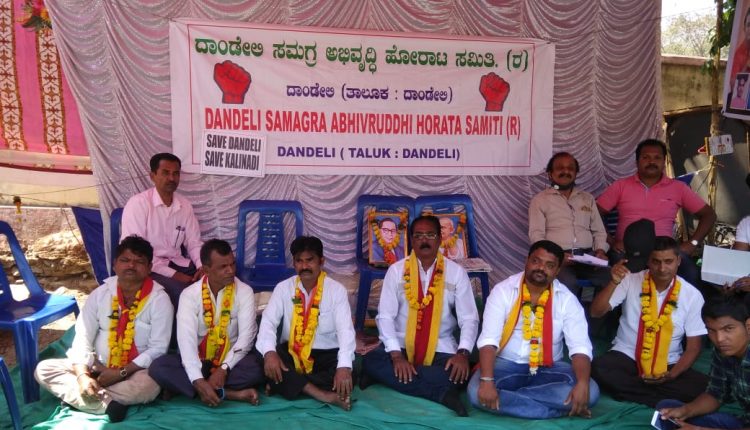 Dandeli in Uttara Kannada (UK) district in north-western Karnataka, attracts large number of tourists every year post monsoons and throughout the year and is a popular place in the tourist circuit of the state and the country. The tourists undertake lots of adventure related activities, sightseeing, go rafting on river Kali at starting point Ganeshgudi and ending at Moulangi Eco park, located at a distance of eight kms from Dandeli.
River Kali originates in Joida taluka of UK district and flows westwards and joins the Arabian sea at Karwar. It is the shortest river originating and flowing entirely in Uttara Kannada district. Kali river is the lifeline of the people and all activity is centred around its entire course. But the river also has large number of dams built on its entire length in different locations and also generates hydro electricity at Supa, Ganeshgudi and other dams. A total of 47 villages were submerged during the construction of Supa dam and the people who were affected by it after losing their lands relocated to Joida and Ram Nagar. Tall and empty promises were made to them about they getting employment and basic facilities and the same have not been fulfilled even after 40 years, since the Supa dam became fully operational. Their sacrifices have never been acknowledged by successive governments till date.
The current sit in protest outside the bus stand on JN road in Dandeli by Akram Khan and all members of Dandeli Samagra Horata Samiti is to safeguard the rights to safe drinking water for the people of Joida-Ram Nagar and Dandeli. The agitation began on February eight and is being supported by different organisations who are showing their solidarity by sitting in the protests from morning to evening every day. The Dandeli Samagra Horata Samiti is creating awareness and bringing to the notice of the citizens; tour operators; home stay and resort owners; elected representatives; concerned officials and the current government about the dangers in store, if the river water is diverted for various commercial purposes by powerful vested groups.
The new projects to divert the water of the Kali river outside the district have gained momentum and laying of huge pipes of more than one (1) metre in diameter has been going on at a rapid pace since the last one year. The concern of the peaceful sit-in protesters is to safeguard the basic rights of the people of UK district from exploiting the limited natural resources by powerful industrialists and lobbies who are claiming to provide the drinking water to places outside Uttara Kannada (UK) district where none such problems exist.