The Truck Owners and Drivers Association in Dandeli sitting on a Hunger Strike since November 17
November 19, 2020
By Manjunath K. Shresthi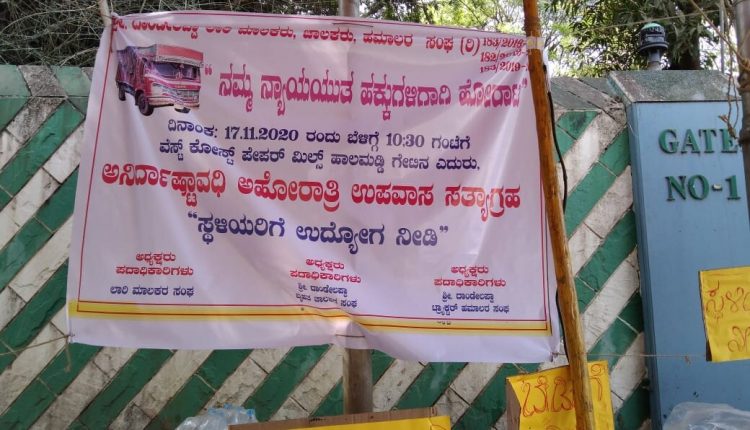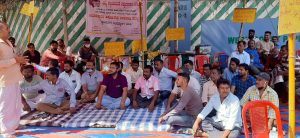 Dandeli in Uttara Kannada (Karwar) district is a scenic and a tourist place in the north western part of the state of Karnataka, it is also home to the West Coast Paper Mills (WCPM). Since November 17, the truck owners, drivers and head loaders (hamals) are sitting on a hunger strike for the third day and protesting against the policies of the West Coast Paper Mills Ltd., Dandeli, at Gate No. 1 on Haliyal road.
The reason for their hunger strike is because the WCPM mill is giving contract to transporters from outside states and not employing the local trucks available, and the drivers and hamals are left without work as the vehicles are lying idle. In the transport business, the 12 wheelers-14 wheelers and different types of trucks cannot be kept stationary as it increases the overhead costs and thereby causing unbearable losses to the transporters.
The truck owners and drivers association speaking to The Flag Post added that "about 70 plus trucks from Dandeli and nearby places have nothing to do as the WCPM is not ready to listen to the problems of the local transporters. The local truckers are ready to adhere to all the demands of the transport contractors. The truck owners and the drivers are facing severe financial burden and the WCPM management should resolve the issue at the earliest".
The pulp wood department in the mill makes the trucks wait for longer duration and the local truckers are ready to cooperate for 1-2 days, and also no halting charges given. The truckers association have been making losses, before there were 150-200 trucks; but now their numbers are less than 100, and the reason being the Banks/Finance companies have seized the trucks for not paying the loan amount on time.
Since the protest began, everyday on a rotational basis five people have been sitting on a hunger strike. The President, Vice-President and Secretary of the Truck Owners Association and also the office bearers of the Truck Driver's Association have been protesting for their rightful demands. Mr. Nagesh Walekar, Vahana Malikara Sangada Adhyaksha, Dandeli, "said that the WCPM Management should resolve the issue peacefully in the interest of the local truck owners and the people dependent on them".