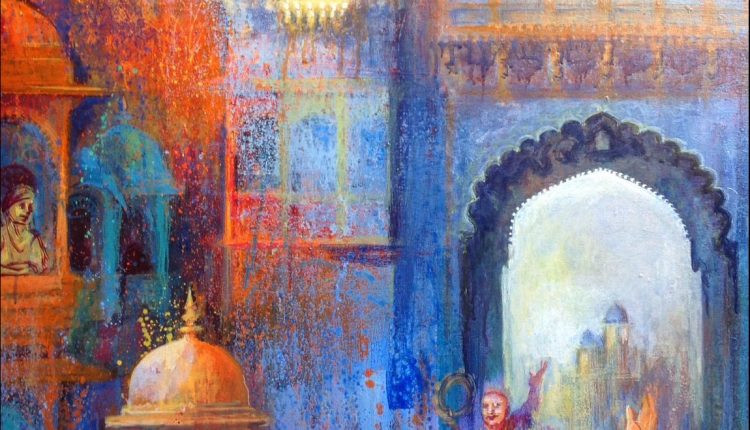 SPECTRUM BLIZZARD: A Group Show of Paintings at Open Palm Court Gallery, India Habitat Centre, New Delhi.
By TFP Staff
An innovative group of Delhi based artists will showcase their beautiful pieces of artworks in oil, acrylic, and mix media used as medium by some. And one of the artist has used 24 carat gold foil with semiprecious stones.
""Spectrum Blizzard "" a group show of paintings is visioned to promote art with an objective of benefiting the artists as an efficient platform to earn respect and connect to the myriad world of opportunities.
The art exhibition curated by: Mrs. Manjeet Kaur, married to Mr. Sarnajeet Singh Sarna, and she has worked on different mediums in her long association with art.  She became a studio potter; initially papier mache was her medium of interest; the same passion resulted her in making vases, trays, coasters and pin boards. She started working with rock salt, and small and big chunks obtained directly from mines. She keeps herself busy with her  husband's painting shows, solo and group shows and has now become wiser  and rich with experience after organizing many shows.
After spending a good 20 long years and gaining experience in organising art exhibitions, she decided to formally study art and did an Art appreciation course from National museum, New Delhi. After studying Art, she has reasons to book galleries and help and give a platform to emerging and talented  young artists. It's been 10 years, since Mrs. Manjeet Kaur, is working as an art curator and has curated group shows at Gallery pioneer; Galaxy Hotel Gurgaon; AIFACS gallery and the Convention foyer, Open Palm court gallery  and Visual arts gallery all located at India Habitat Centre (IHC).
Starting From:   September 27-30, 2019
Time:                   11 AM- 8 PM Daily
Venue:                  Open Palm Court Gallery, India Habitat Centre, New Delhi