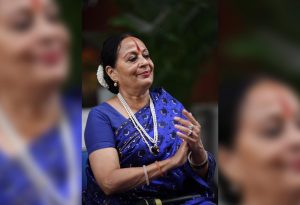 The cultural institution Centre for Indian Classical Dances, New Delhi is going to present a fascinating cultural treat – ''Kalayatra 2020'. The two-day Kalayatra festival on 10th & 11th October, beginning at 6.30 p.m. on both the days will be held online because of mandatory precautions due to Covid-19 pandemic.  The event  shall be presented by Hon'ble MP Rajya Sabha and Padma Vibhushan, Dr Sonal Mansigh's renowned cultural institution Centre for Indian Classical Dances, New Delhi.
Kala Yatra 2020 begins on Saturday the 10th October; dance choreography by 3 famous groups and Talks by eminent scholars on the Ramayana would be presented.  Similarly, on Sunday, the 11th October, Mahabharata will be presented by famous dance groups and talks by eminent scholars. 
Kalayatra is truly a journey of cultural explorations inspired by the immense richness and wisdom of Indian performing arts and literature and their myriad forms of expression through dance, music, theatre etc. Through Kala Yatra 2020, one shall get to see the breadth, depth and magic of these Epics and their perennial influence on our Art traditions, through a 'Virtual Feast of the Arts', replete with 'Entertainment, Information and Knowledge!  
The Diva of Indian classical dance, Dr Sonal Mansingh dons several hats. She is a globally renowned Odissi and Bharathanatyam dancer, Guru, Choreographer,  scholar, author, orator, social reformer, art connoisseur and Founder -President of one of the oldest cultural centres in Delhi- Centre for Indian Classical Dances (CICD), Hauz Khas, New Delhi.
At CICD, one finds a confluence of dance, music, yoga, Sanskirt, literature and the way of life in an inspiring ambience since its inception in the 70's, CICD has shaped the outlook and life of many young students as well as aspiring talented artists. An erudite artist, Sonal Mansingh is the youngest recipient of Padma Bhushan in 1992 and in 2003, she became the first Indian woman dancer to be awarded Padma Vibhushan. A versatile dancer, she is trained in Bharathanatyam, Odissi, and also in many other dance forms such as Manipuri, Kuchipudi, and Chhau. Presently, Dr Sonal Mansingh is a Rajya Sabha MP and a strong voice in support of Indian cultural traditions and their artists across all generes. 
The famous lyricist has supported the event and sent his good wishes and said that he looks forward to this cultural festival.