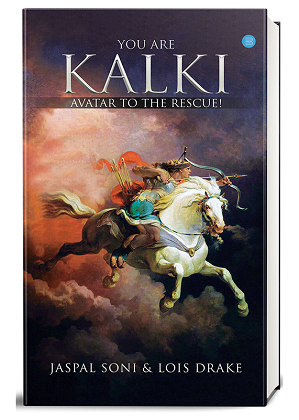 A novel woven around six persons from different religious backgrounds seeking to make a difference through a common spiritual thread. Titled "You Are Kalki Avatar to the Rescue" written in a racy style by Jaspal Soni and Lois E. Drake is about how six characters are in quest of tangibly improving their respective worlds. They work within their own religious frameworks to tap the universal power that is revealed for their use.
The authors have chosen the tenth and final incarnation of Lord Vishnu – Kalki who appears at the end of each Kali Yuga as the centerpiece of their novel. Mythology has it that he will be atop a white horse and his sword will be drawn, blazing like a comet. He appears when only chaos, evil and persecution prevails, dharma has vanished, and he ends the Kali Yuga to restart Satya Yuga and another cycle of existence.
In the contemporary world this title does seem appropriate considering the developments.
In the slim book with five chapters and 64 pages, the authors describe the powers of Kalki , Reality of the universe and the hands of Kalki in its divine existence.
The book launched recently is published by BlueRose Publishers is currently available at Amazon bookstore and priced at Rs. 300.
Soni is the President of Chananda Cultural Society (CCS) has done environmental engineering while Drake is a writer who has studied the teachings of the ascended masters for thirty years.
BlueRose Publishers was started in October 2012 by Syed Arshad, with more than 50000+ registered authors.