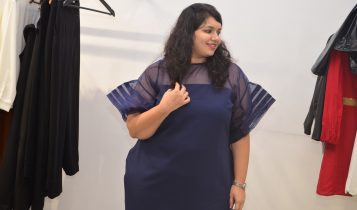 Eye-Candy – modest-and-fashionable – a Plus-Size styling event was successfully-organised in the 'Samshék' Store at Seasons Mall Pune on 21st December, 2019. 
Interestingly, 'Samshék' – the very word means… "Women Custom-Made Dresses", in collaboration with the Plus-Size Women of India community, hosted an event at their tech-fashion retail store. It was a styling event for Plus-Size Women. The purpose was to create awareness about various body-types, how technology can help resolve the biggest pain point of fit in the garment and why digital customisation is the next upcoming tech in fashion and retail.

The Plus-Size fashion-tech convention was attended by various plus-size influencers, housewives and Women Entrepreneurs.
"'Samshék' is a tech-fashion brand, and we work on zero waste policy, sustainability and digital customisation. We have a concept of 3D body scanner which takes 150 measurements in 5 seconds. We are customising sizes from XS to 9XL which helps consumers to get the perfect fit according to your body-type. Because not everybody fits into the mainstream retail clothing system", Bakir Manasawala, Store Manager, Samshék.
He spoke about the brand, their concept behind body scanning, digital customisation, their future plans and how 'Samshék' is working towards zero waste policy to make their brand more sustainable and ethical.
Tech-fashion Store 'Samshék' raises awareness on fashion technology at their
Plus-Size styling event 
It was an evening filled with glamour, technology and fashion styling. Various women of all body shapes and sizes tried virtual customisation process to understand what kind of garment will suit their body shape.
In their fashion styling segment, the fashion consultant explained about the body-types and what clothes they should wear according to their body-type; the gorgeous ladies tried their outfits and appreciated the idea of digital customisation. She further explained the concept of power dressing and corporate styling
It's amazing! It's like a personalised retail experience especially for Women who struggle to find clothing in their size" said one of the Plus-Size Women
"Every-body-type is unique in its own way and Women should love it and feel confident about it. With emerging technologies, 3D body scanning and virtual customisation, 'Samshék' makes this possible", shares….  Samiksha Bajaj, Co-Founder, 'Samshék'. 
'Samshék' is looking for its expansion in the domestic and international market to spread awareness about the concept of virtual customisation and zero waste policy through such events. Their vision is to be at the forefront of fashion technology and sustainability in the coming next five years and is planning to open-up more tech-stores in the coming year ahead.