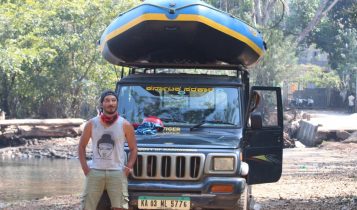 The adventure sports is now evolving and rafting on the rapids is the most sought after sport for tourists who want a rush of adrenaline during their holidays. There are few places in the country that boast of rapids and river Kali with its origins in Diggi at Joida taluk of Uttar Kannada district is one of them and is popular in the tourist circuit. The starting point for rafting is at Ganesh Gudi and they are Class III rapids and the 13 kilometres stretch ends at Moulangi Eco Park, six kilometres from Dandeli. The rafting sport is technical in nature and training is a must for the instructors who take the tourists on the rapids of any river. Along with adventure, the safety of the tourist is given top priority so that the tourist goes home happily with good memories.
The Flag Post spoke to Mr. Devraj Thakur, a Tour Guide for water activities with Kali Adventure Camp.
Tell us about your early years and education?
I studied till Class Xth at Kulu Manali in Himachal Pradesh and was not able to finish college and dropped out after the 1st year. My parents stay in Himachal Pradesh.
Which places have you worked before ?
In year 2008, I joined Beas river rafting and since then worked as a co-guide for three years. I also briefly worked in similar water adventure sports at Raigad district of Maharashtra on Kundalika river, which is popular among Mumbaikars and they come for rafting.
Since last 12 years I've been rafting and joined white water as a rescue technician for sometime in year 2015 in Nepal. I'm now employed as a raft guide with Kali Adventure Camp (Govt of Karnataka). It was my dream to go abroad but could not make it and am happy to be in India.
How did you come to Dandeli?
I'm on a contract for six months from October to March, and after March I go back to my native state. I stay here along with a group of 10 others from the same industry and they are from the states of Himachal Pradesh, Uttarakhand and some of the guides and instructors are from Nepal. The accommodation is given by the company we are working with.
What is your daily schedule and is there any special diet?
The day for all the rafters starts early and we reach Ganesh Gudi by 10 AM. I do two rounds everyday one in the morning at 10 AM and the second round at 2 PM in the afternoon. The Kali rapids are classified as Class III rapids and are safe and the starting point is at Ganesh Gudi and it takes two hours to reach downstream at Moulangi Eco Park. The maximum capacity is eight members and one instructor per raft. There is no special diet to be followed and we have a normal balanced diet rich in protein and it keeps us going.
Any one incident that you often think about?
One bad incident I can recollect is when I was working in Nepal and we faced a 1st Rapid (Class V) a.k.a 'Big Brother' on the Kali Gandaki river. When the raft hit the rapid, it toppled and a foreign lady tourist got stuck under the raft and with great difficulty we were able to get her to safety.
Your experiences about Karnataka?
The people of Karnataka are good, friendly, warm, affectionate and cooperative and he along with his friends feels at home here.