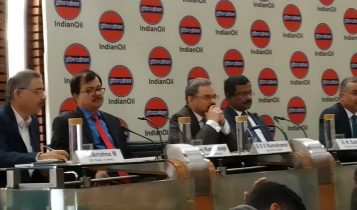 New Delhi, Jan 30 : State run national oil refiner IOCL showed a threefold jump in profits at Rs 2,339 crore in 3rd quarter of FY 2019-20 from Rs 717 crore in the same period in FY 2018,19, though overall profits declined as also revenues shrunk during the nine months of the fiscal FY 19-20.
Revenue from operation of IndianOil was Rs 1,44,820 crore in Q/3 FY 19/20 compared to Rs 1,60,138 crore in the corresponding quarter of FY 18-19. "Profit for the quarter of FY 19-20 was Rs 2,339 crore against Rs 717 crore in the corresponding quarter of FY 18-19 , Mr Sanjiv Singh, Chairman and Managing Director of IndianOil told at a press conference.
"The variation is majorly on account of inventory gain during current quarter against inventory loss during corresponding quarter of previous financial partly offset by lower refining margins and exchanges losses during current quarter ", he told newsmen at the IOCL corporate office.
IndinaOil reported revenue from operation of Rs 4, 27,331 crore for the first nine months of the FY 19-20 against Rs 4, 61,451 crore in the corresponding FY 18-19 period. Net profit for the nine months ended 31st December 2019 was lower at Rs 6,449 crore as compared to Rs 10,795 crore during the corresponding period mainly on account of lower refining margins during current period.
Mr Singh said IndianOil sold 67,940 million tonnes of products, including exports, during the first nine months of FY 2019-20. "Our refining throughput for the first nine months of FY 19-20 was 52,137 million tonnes and the throughput of the corporations country wide pipelines net work was 64.562 million tonnes during the year. "The gross refining margin (GRM) during the first nine months of the year 2019-20 was US$ 3.34 per barrel compared to US$ 5.83 per barrel in corresponding period of previous financial.
For the 3rd quarter of FY 19-20 IndianOil's product sales volumes, including exports, was 23,409 million tonnes. Refining throughput was 17,496 million tonnes in Q3 10-20 and the throughput of the corporation's countrywide pipelines network was 20,962 million tonnes during the said period.
Making another announcement, Mr Singh said IndianOil along with OMC's (Oil Marketing Companies) (BPC and HPC) was rolling out Bharat State VI automotive fuels (Petrol & Diesel) across the country by April 01, 2020. As part of India's fuels up gradation programme, the vehicular pollution norms introduced in the early 1990s, have been made more stringent over time. Current BS-IV norms were enforced in 2017, after BS-II and BS-III norms, enforced in 2005 and 2010 respectively, in the transition to BS-VI fuels , BS-V norms have been skipped with a view to having a more stringent standard at the earliest to curb vehicular pollution levels.
Delhi NCR was to have BS-VI fuel supplies by April 2019 and the rest of the country from April 2020. OMCs switched over to supply of BS-VI grade fuels in Delhi/NCT on April 01, 2018. Supply of BS-VI fuels was further extended to 04 contiguous districts of Rajasthan and 08 of UP in the NCR (National Capital Region) on April 01, 2019. , together with the city of Agra, BS-VI grade fuels were made available in 07 districts of Haryana from October 01, 2019